Whether we were ready or not, Summer 2015 has officially begun. The first rounds of bird nets have been set up and taken down, I sanded off my first graffiti masterpiece on the pavilion and the first full week of programs has passed. If you had told me that my learning experience here was no where close to it's full potential yet, I wouldn't believe you. Being able to work beside and learn from someone like Kim Gaffett is something indescribable and I feel incredibly lucky for this experience.
I suppose I should introduce myself to this new Blog experience that I have been offered. My name is Elsie Drummond and I am from Kittery Point, Maine (Outlet Mall's and Kittery Trading Post are common landmarks). I started my college journey at Roger Williams University in Bristol, Rhode Island and completed my freshman year there and continued as a transfer student up at University of New England in Biddeford, Maine. I entered college as a Psychology major and after a few weeks I realized that I might be going in the wrong direction, I missed the fresh air. After researching alternative options I came across the major that let you learn about the environment around you and what our generation has ahead of us in terms of keeping it as healthy as possible. It was right then that I filled out the Switching-Your-Major-Worksheet, I declared myself an Environmental Science student with a minor in Sustainability. Still with some school left, at age 20 I can confidently say that I have a passion for learning about our ecosystems, their inhabitants and their future.

It was with this information that my cousin, Jennie Ritter (now Murphy) sent me a link on the job that she had done a few years before, located on Block Island. It was for the Ocean View Foundation, a name I had been familiar with for I had come to a bird banding program when I was younger. After reading the job description and seeing how the foundation worked and noticing all the positive steps they were taking towards environmental awareness, I sent in a resume and gave it a chance. Let's just say when Kim called me back, my excitement was unfathomable. I was going to be the Ocean View Foundation's 2015 Eco-Worker.

 
The week before programs started, Kim had described that it would be along the lines of a "Brain Dump" which was definitely a spot-on description. Learning the schedule, getting familiar with each programs goal, meeting record-breaking amounts of new people and settling in made me very aware of how busy this summer will get. On the other hand, it also opened my eyes to the fact that this is such a beautiful place and there are amazing people who have so much to teach and I should take advantage of every moment I have, and explore as much as possible.

The first program we had on Monday, June 22nd was the Wild & Native Flower Walk. With about seven people participating in the stroll around the pavilion, Kim introduced and explained numerous new flowers and types of grasses. The lawn surrounding the property had not yet been mowed, so the tall grasses seemed to shimmer as the wind blew across. I had originally just walked past these tall, thin stemmed plants, but every strand that Kim pulled up to describe created a whole knew perspective on the field. It wasn't a section of weeds anymore, it was a garden of overlooked beauty.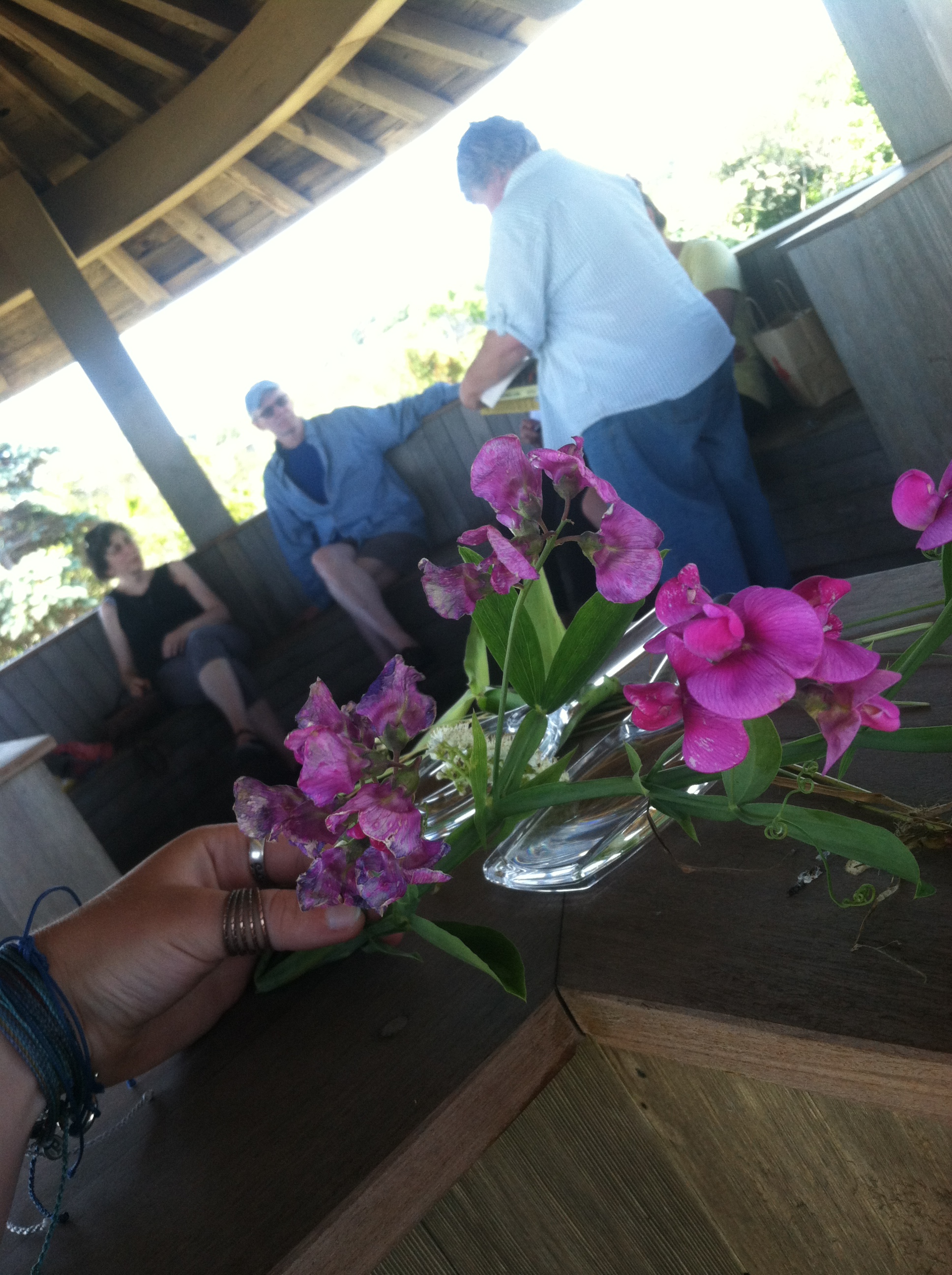 It wasn't until the end of this walk that the experience ahead of me was really put into perspective. As people were starting to go their separate ways for the rest of the day, one man walked up to Kim and I and was explaining his interpretation on the program. He showed great interest in the Ocean View Foundation and seemed adamant on pointing people in our direction. Before he walked away he put his hand on Kim's shoulder and said:
"Kim, you are a true wildflower of Block Island."
Right then was when I realized I am incredibly lucky to have Kim as not only my teacher this summer but mentor. She is passionate about what she does and wants to spread the knowledge and experience she has in the environment, but also show how much we can learn from our natural surroundings.

"Of all the paths you take in life, make sure a few of them are dirt."
-JOHN MUIR
Cheers to upcoming adventures,
~Elsie